Programs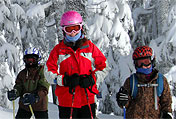 8 Week Program w/ Camp
Ages 7+
Join us for a 3 day winter camp (Dec. 29, 30, 31) and an 8 week program starting Jan. 6 - Feb. 24, 2018. Training will occur each weekend on Saturday's. This a great way for athletes looking to hone-in on their racing skills and techniques. We focus on fundamentals through free skiing and progressive drills for the hose who are interested in building strong skiing skills. It's a perfect time for new athletes to try WARP. This program is not an alternative to ski school. Children enrolled in WARP should already have the fundamental skills of skiing and be able to load and unload a chairlift by themself.
Please Note: This program is tentative based on athlete participation. If we do not have enough participants, we will refund you in full.
Program Fee: $300 (Tentative)
Session Dates:
Winter Camp: Dec. 29, 30, 31, 2017
WARP 8 Week Program Dates: Saturday's starting Jan. 6 - Feb. 24, 2018
Training Hours:
9:30 a.m. to 2:00 p.m.